Dixie Miller is a professional trainer and speaker who brings audiences to their feet.
Dixie gives her presentations a personal touch, tailoring them to meet the needs of her clients. This personal service, combined with her warmth and her information packed, dynamic presentations, has won her praise from audiences around the world.
Dixie produced an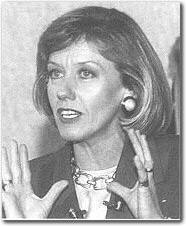 educational video entitled "Communicating Your Leadership Style" and an educational audio cassette tape on "Self Empowerment through Public Speaking."
She was the associate producer and co-host of "Straight Talk," a cable television show on substance abuse. She was honored by the Commission for Women as an "Outstanding Woman of Vision and Action."
Dixie began her speaking and training career with the Dale Carnegie Leadership Institute as an Instructor/Coordinator. Additionally, she worked as a Trainer for the internationally prominent "CareerTrack" training and seminar company.